It's been a while. Sorry to all for being M.I.A. on here. Apparently, it was a pretty busy summer. SO many things to cover!
Lets start with our trip to LA for the annual 2-day "team-building" gathering my company puts together. Some differences from last year's trip and this year's trip…When we went last year, I needed an entire "team" to travel, my mom, Ben, and my brother. This year, just Ben. Last year, I wasn't on my prosthetics full time, nor did I have them to travel with, so I was in the wheelchair full-time. By the time the event came around this year, I was in my prosthesis full-time, so I got around solely on them. The wheelchair still came along…it will always be a travel companion since I need it to help me shower and get around prior to going to bed. Last year's sporting event was softball and I was solely a spectator. This year, the event was bowling and I thought I'd be watching from the bench, yet again. But, I figured I'd give it a try. I do exercises with weighted balls in PT, now granted, I don't walk with them…I usually just do sitting exercises, but at least I knew I wouldn't have any trouble lifting an 8 pound bowling ball. So…with the crutch in my left hand, I picked up the ball with my right and walked from the ball return to the start of the lane and threw the ball…(with Ben next to me in case I lost my balance)…SIX pins down! Hmmm…not too bad. Now I was a little pumped. So, as I stood there while the pins got realigned, Ben went and got the ball back for me. I chucked the ball down the lane again to finish up my turn…FOUR pins down! SPARE!!! (Keep in mind, there was no technique or skill involved in either of these attempts. It was purely, release the ball without falling on my ass and hope to at least get it down the lane without going into the gutter.) Woohoo!!! First time bowling in ages, since the accident, and on prosthetics (not that I'd bowled in the wheelchair)! Unfortunately, because I didn't think I'd get a spare, or any pins for that matter, we didn't record it. UGH. I bowled a few more times, but after a couple of tries I started to get gutter balls. That killed my momentum…so I took a break. After taking a little break, I thought, we have to record me until I knock some pins down!… See video…it's pretty dark. I wasn't able to get a spare again, but I knocked down 9 pins in one shot!…couldn't knock that last sucker down…
Bowling_LA_August2015
We also went back to Universal Studios while we were in LA. For those of you who forgot, when we went there last year and I tried to go on the Mummy Ride, I was told that I couldn't go on the ride b/c you needed to have at least one full leg to go on the ride and I only had a half. Womp, womp, womp. So…Take 2. This time I was able to go on the rides and we were able to visit the Simpsons land, since it was now finished. See pics below of our ginormous Lard Lad donut and our Duff Beer!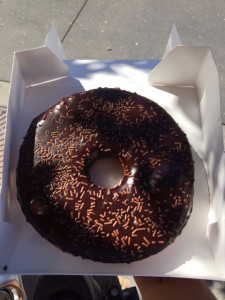 The lunch of champions! The beer wasn't bad and we brought home the "glass" as a souvenir!
About a week or so after we got back from LA, we went to Foxwoods Casino in Connecticut, an anniversary gift from my in-laws. Thanks again Momma and Poppa Katz! There are a lot of people in wheelchairs at a casino, or at this one, anyway. You can bring your own, obviously. But you can also rent manual or electronic ones from the casino! At the casino, I played black jack at a handicapped table and at a regular table. So, when we played at the regular table, I'd pull up next to the chair, stand up, and then get into the chair. Once I was seated, Ben would park the wheelchair off to the side. When seated at the table my legs were hidden by the table top. So, when we were ready to leave, Ben would bring the wheelchair over and I would start to get up. If someone came to the table after us, they wouldn't necessarily know about my legs. So as I'm wiggling out of the seat, they're watching, since Ben has brought over the chair by now. And then when I finally stand up from behind the table and they see the prosthetics, it's like this look…Oh..She doesn't have any legs and can still play blackjack?!?…maybe you had to be there…hah.
So, ever since I got the car at the beginning of June, I've been driving myself all over town! My first major solo drive was to PT and/or A Step Ahead. They're both about 25-35 minutes away from our apartment. It was scary at first, but freeing at the same time. It's one thing to have Ben or someone else drive me somewhere if I needed help at the destination, but I would feel helpless when all I needed was to be "chauffeured". So, to be able to drive myself to PT, a drive-thru, or anywhere where I knew I could drive myself from Point A to Point B and know that either I didn't need help at Point B or there would be help there, if I needed it, was pretty awesome. If I drove myself to a drive-thru, I'd take one of my shoulder bags with me and put the food in the bag so that I'd be able to walk from the car into the apartment and still have my hands free. I could also drive myself to places where the terrain was familiar. After about 6+ weeks or so of solo driving, I decided I'd start trying to go into the office.
At the end of August, I decided to start some trial runs of going into the office. The plan would be to go in once a week, maybe twice, if I was up for it. I've gone in 3 different weeks, for a total of 4 times. I drive myself in, park the car, usually on the side street as it's commercial parking and I have a parking permit, and then have someone meet me in case I need help getting in. Once I'm at the office, everything is pretty much smooth sailing. But the drive in…OH MY GOSH. I don't drive in during "rush hour"…but still…geez. And let me tell you…whether you're driving with your feet or your hands, traffic still SUCKS…big time…and it doesn't make you more patient or less annoyed. OK…can we talk about the amount of cyclists on the road AND all the people who cross the street with their heads in their phones?!?…holy crap! Lets start with the cyclists. Now, let me just say, I have nothing against the cyclist that are fully aware that they are sharing the road with cars and obey the traffic laws. And I realize that we all need to pay attention, but to those that ride however they want and think they're invincible…uhm…I'm in a thousand pound car. And people…look up from your freaking phone when you're crossing the street! When I'm inching into the intersection to try and make a turn and you're walking at the pace of a snail with your head in your phone, don't look up from your phone just to give me the stink eye and then go back to walking like a snail with your head in your phone. F'ing PAY ATTENTION. One of these days I'm gonna get so annoyed, pull over, and say to either a biker/pedestrian…you see my prosthetics?…this is what could happen to you if you don't pay attention…*drops mic*.
Ben and I went to the US Open about a week and a half ago. I hadn't been since the accident and hadn't been there in a while, even prior to the accident. It was a pretty nice day, not as humid as it had been the previous days, which was great. We talked about bringing the wheelchair and putting it in the trunk in case I needed it..but forgot. I toughed it out. We were there for about 7-8 hours, and there was more walking than sitting done within those hours. We saw good matches, did a lot of walking, and ate some extremely, overly priced food! I almost got trampled at one point, but survived..maybe uttered a few *$#@!#..but was OK otherwise. A long and tiring day, but a good one!

A week after the Open, Ben and I had a wedding to attend…at Rye Playland! For those that are unfamiliar, Playland Amusement Park, a.k.a Rye Playland, is an amusement park in Rye, NY. Google it if you want more info! I was really sore for a few days after the Open, so glad that I had time to recover, since there would be a lot of walking, yet again. We rode the Dragon Coaster, their main coaster. It was my first roller coaster with prosthetics. As long as it's a coaster where the car has a floor, I'm good to go. It was a lot of fun.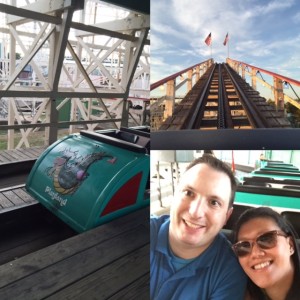 The best part of the day though, was probably when I had an impromptu show-and-tell for a group of little kids.


I just realized what time it is..1AM…and I have to get up early for my surgery tomorrow. As much as I hate not finishing this post, I have to get ready for bed. And since I'll be recovering for the next few days, I'll make sure to finish it.
To be continued…