Hi everyone!
Sorry for being MIA for SO long. I fell out of the groove of posting and didn't realize it would be so tough to get back into the groove. Since my last post was about 6 months ago, there's a lot to catch up on!…here's a recap of the last few months…
August 2016
Ben and I drove down to Baltimore to visit his cousin. It was way too hot…and I didn't even get to take a dip in the hotel pool. This was also around the time that I was casted as an extra on a popular cable TV series..more about that later!
I attended my first Bruce Springsteen concert with my cousin, Annie. Bruce was great. MetLife Stadium and their staff were very accommodating. After we got our tickets scanned and went through security, an attendant came up to me and asked if I needed a wheelchair to take me to our seats. "Sure!" Crowds of people not paying attention to where they're going, a potentially long walk to our seats, not knowing where we needed to walk in order to get to our seats…Yes please, I think I'll take the wheelchair ride and escort! He took us to our seats, dropped us off, and when the concert was almost over, he came back to pick us up and wheeled us out to the parking lot. Awesome! All of that went off without a hitch. However, the concert experience itself, was not exactly drama free. It probably happened within the first hour of the concert. We had seats in the handicapped section of our section, which meant you either sat in your wheelchair (if you brought your own) or you sat in a folding chair. The handicapped section is at the top of the stairs of your section. So, our seats are at top of the landing with a railing in front (that also holds the cup holders) and our feet are at the heads of the people that are in the row directly below us. ( I hope that description made sense…) There were a pair of guys to our right (probably in their 20s) and a couple below/in front of us and the guys. One of the guys had his beer in the cup holder and went to take the lid off of the cup. The beers are sold in clear solo cups with lids on them. I guess the cup was filled to the top and when he removed the lid, there was some beer that "sprayed" onto the woman in front of him. She turned around and said something to him and it seemed like he apologized. It seemed like this was an accident, but after that, I was watching from the corner of my eye, for any "suspicious" activity. Cut to, oh about 15 minutes or so later, and the guy is telling his friend about the incident. Mind you, I couldn't really hear what they were saying, but I could tell that that's what he was talking about b/c of what followed immediately after. Next thing you know, the friend takes the lid off of his beer, holds the lid over the woman's head, and then proceeds to shake the lid so that beer splashes onto her. Now, I'm sitting there thinking, ugh….WTF?!?…why was that necessary, you idiot! The woman then turns around and is visibly annoyed. The two guys act like nothing happened and say it was an accident (which it clearly was not). The guy the woman is with then gets involved and now the four of them are shouting at the top of their lungs and saying ridiculous things back and forth to each other. After a couple minutes of shouting, the woman grabs the guy's beer (the guys are sitting, b/c our seats are half a level above the couple, and the couple is standing with their backs to the stage) and throws it at the guy! It gets all over the guy…AND gets all over my right foot and leg. And that was followed by a "WHAT THE F***?!?", from yours truly. The guys had the audacity to point towards me and sort of give this look and motion of, "Look what you did!!" to the woman. Uhm, no, you don't get to do that when you were the A**holes that escalated it! Luckily…my leg is waterproof! What is wrong with people?!?
September 2016
I volunteered at the US Open. It was my first time volunteering at the Open. I met some really nice people, watched some great tennis, and overall, had a lot of fun. I worked at the membership booth, which was indoors, thankfully, since there were some really hot and humid days! My friend Wade, who's a volunteer veteran, was my partner/helper in crime. We'd meet up at the end of our shifts, grab dinner, and then watch some tennis. They were long days…tiring and fun, but long days! If I can, I hope I can volunteer again this year! See below for some pics!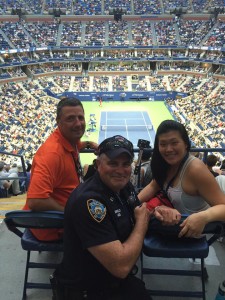 In September, we threw a baby shower for my good friend, May. I was in charge of making the diaper cake. My first time making a diaper cake…not too shabby…have a look below. What do you think?! And I have to make sure I give my mom credit (even though she won't be reading this), for helping me with some of the sewing aspects in making the cake…THANKS MOM! If anyone is in need of a diaper cake, Mom and I are available to take requests. We can work out a good rate! =)
October 2016
Mom and I went apple picking up in Warwick, NY, about an hour and a half or so north of the city. Mom did all of the picking. I'd never gone apple picking before, not before my accident, or after. I'd been strawberry and cherry picking, back in the day, but it had been a very long time. It didn't occur to me that the terrain wouldn't exactly be flat or smooth (not sure why I didn't think of that), so I wasn't able to do any of the actual picking since all of my attention and energy had to go towards walking and making sure I didn't trip over any apples. Mom went to town on those apple trees. She'd walk down a row and then disappear among the trees. Eventually, she reappeared, walked back to me, and the bag was FULL of apples. I'm not even sure how she managed to carry it back by herself! And she wasn't done! She wanted to go back, but the back was full. So, I told her to take off her jacket, tie up the sleeves, and then use that to get some more apples….heh.

I went back to MetLife Stadium in October, this time for the Beyonce concert. Concert was originally supposed to be in September, but was pushed back to October b/c Beyonce had some vocal issues. Morgan (Annie's youngest daughter) went with me. We got to our seats and she said to me, "I'm going to every concert with you!" To which I replied, "You, too, can get this treatment if you lose both of your legs!" We had a lot of fun and I remembered to bring my ear plugs, so I wasn't deaf at the end of the concert!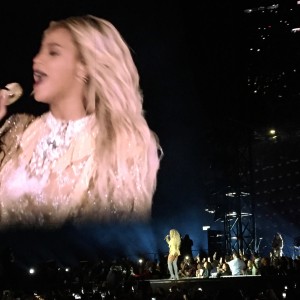 My last thing for October…

I conceptualized (Not that it's a complicated design..) and decorated this ice cream cake (From our store, Maggie Moo's on Bell Blvd. in Bayside…go check it out!…that was my "plug"! Hah) for my cousin's son's 4th birthday. Construction themed! I hadn't decorated a cake from start to finish in ages…what do you think? Cookie dough as rocks, some crushed Oreo cookies as dirt, a four shaped out of fondant and decorated to look like the road, and a couple of construction trucks filled with "rocks" to finish out the theme!
November 2016
As for November…we went to Vegas. But prior to the Vegas trip, which was at the end of November, I saw Hamilton on Broadway, had a pigeon hit our car, and went to a Friendsgiving dinner down at the Jersey Shore.
I saw Hamilton with Ben's mom…it was amazing! Educational, entertaining, great music, and great cast. If you can get your hands on some tickets, definitely check it out.
Ben and I had just gotten on the highway, to head down to the Jersey Shore for the Friendsgiving dinner we were attending, when, BOOM!!!, a pigeon hit the passenger side of the windshield. I was driving and just heard this loud noise that sounded like a rock at hit the car. I had seen the pigeons from afar and then saw something fly towards the car from the corner of my eye, but didn't really think anything of it, until the loud THUD. I thought the windshield was going to have a crack in it. Luckily, it didn't. Not so lucky, was the pigeon. His/her friends had successfully made the flight to wherever they were going, but this guy…met his/her demise via our windshield. I think the reason our windshield didn't crack was b/c the pigeon flew into the car from it's side, as opposed to straight on with it's beak. It was kinda gross, since it left a clear imprint on the windshield, which we had to drive with, for the entire drive down…we were worried that if we sprayed the wiper fluid and turned on the wipers, we might smear the stuff all over and spread it across the windshield.

On a happier note, Friendsgiving was great. Lots of food, great company, and great weather! It was like a 60 degree day! I decorated a beach themed cake for this dinner, but didn't get a pic of it…
Ben, myself, my parents, and my brother went to Vegas. The last time I was in Vegas, was over 10 years ago. Not that that trip was wild and crazy, but this was a much more tamed and grown up trip to Vegas. No late nights, no clubbing, no drinking, no strippers…We ate (nothing off the strip, except for a quick dinner before the Cirque show), took a day trip to the Grand Canyon, gambled, saw a Cirque Du Soleil show (my first), and just relaxed. The Cirque show was amazing, quite a production. The gambling was good, since we came out on top, not by much, but being up, no matter how little, is still better than being down! Ben and I stick to black jack when we gamble. I played the slots a little, but I never have any idea what's going on, I just push buttons, so it's gets boring pretty quickly. Food was good. I picked places that weren't on the strip, since anything on the strip we could either get in NY or it would be terribly over priced. The Grand Canyon…what a sight!..and there was snow up there!…in Arizona! The tour we took was awesome. It was a private tour, so just me, Ben, my parents, and our guide. It was a mini van, so he was able to take us to areas that the big tours and their big buses don't have access to. We weren't sure if we should take my wheelchair and stick it in the trunk, in case I'd need it…and we weren't sure if some of the terrain or space would even be accessible for my chair. So, we decided to leave the chair behind at the hotel, and I would wing it…if there was anyway that I could, we would figure it out and I would, and if I couldn't then I'd stay behind…turns out, there wasn't an area that he took us to where I wasn't able to navigate! A successful trip!
December 2016
Almost all caught up! Nothing much for December…Hanukkah and Christmas, a visit to the 9/11 Memorial and Museum, and an anniversary.
The third anniversary of my accident. Three years. Three years went by so fast. Sometimes you think, wow, it's been three years, already? Then other times it feels like it was just yesterday. And then there are those times, when it's just…
This year, we happened to go visit the 9/11 Memorial and Museum on the day of my anniversary. Neither Ben or I had seen the Memorial or been to the Museum. There was so much to see and so much information that was provided…videos, pictures, stories, TV footage, etc. The reflecting pool is huge, both sad and peaceful. The museum is fairly big. We used one of their wheelchairs, which was a good decision, since there was a lot of ground to cover and some areas were crowded with a lot of people. It's sad and can be depressing, but it also shows how resilient we are…Never Forget.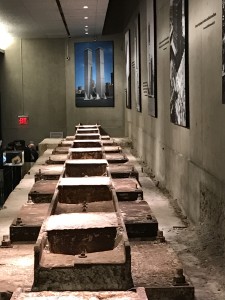 January 2017
Happy New Year! Is it time to stop saying it yet?
Not much for January. We started January 1st off in pretty boring fashion. Ben and I spent New Year's Eve on the couch, watching TV, (watching Mariah Carey act like a total diva) with our mugs of green tea…at least we stayed awake!
Oh right, me being cast as an extra on a popular cable TV series..I held off on mentioning anything about it in my last post b/c I wasn't sure if I'd make it on screen or if I'd end up on the cutting room floor. While we were in Baltimore, one of my brother's friends reached out to me. Someone he knew worked for a casting agency and they had heard that Showtime's Homeland was looking for extras and asked if I'd be interested in trying out for it. I said, "Sure, why not?!" He sent me all the contact info and I reached out to the agency that was doing the casting for Homeland and sent them all the necessary info and some pics of me. The next day or so, I got an email asking if I wanted to be an extra as a wounded veteran on Homeland! They were filming for season 6, which takes place during the fall, but filming was done back in August. I was so worried that I'd have to be in fall clothing in the middle of August…luckily, everything that day was shot indoors..whew! AC is my friend. If you watch the show, you'll see me in the first scene of of the first episode of Season 6. I'm also in the background of another scene at around the 00:39:25 mark..blink and you'll miss me in that scene. I walked by Claire Danes (Carrie) at least 10 times and I chatted with Rupert Friend (Quinn), who is married to Aimee Mullins, who is an amputee. https://en.wikipedia.org/wiki/Aimee_Mullins
So now, when people ask me if I'm a veteran…I can say, "No, but I played one on TV!" =)
I know I still have to tell you all about my fancy, skin legs, but that requires a post dedicated to just that topic. But otherwise, I think we're all caught up now.
Thanks for reading! Sorry for the long break between posts….and for any spelling or grammar errors I didn't catch…long post.